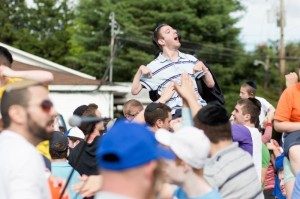 Whether he's fighting for wheelchair accessibility, competing in marathons are writing about the effects of bullying, Zack Pollack is a crusader for human rights and an inspiration to all he meets.
Bring his wit, wisdom and infectious spirit to your group with programs available in variable lengths. Zack is available to speak at:
Public & Private Schools
Colleges & Universities
Nonprofits
Community Groups
Corporations
Fairs & Festivals
Zack Pollack will present a custom motivational program about anti-bullying and inclusion anywhere within 100 miles of Clifton, NJ; please see map at bottom of this page.
Speaking fees are based on a sliding scale and dependent on the financial resources of the organization. Zack's philosophy is that no group should be turned away due to limited funds, and so schools and nonprofits are offered extremely reasonable rates.
Travel outside of the 100 mile radius may be possible, however Zack reserves the right to assess a mileage charge and other related expenses.